Since the moment I picked him up, Tad has never been alone. He has
always
had Walker and Chica. Today, however, I decided to take Tad out...without the other two. Sometimes it's hard to give all three of them the quality time they need, but I do what I can.
It started with giving Walker and Chica bully sticks. That went well, but Tad didn't understand why he didn't get one. I put the leash on him, and out we went...or tried, anyway. He didn't want to leave without Walker and Chica, it was obvious. Or, he wanted a chewie...I can't really say.
I get him into ol' Suzie Pup, my temporary daily driver until I can save some money to get Jemima repaired. I could tell that something wasn't right...something about him. It was almost as if...I don't know, he reverted back to the Tad I first met. I was kind of of confused by this sudden change in behavior, so I watched him. He seemed...not anxious, or scared...but more like...extremely sad. It's hard to describe...but, I firmly believe that people know their dogs. You 'know' when something's not right...and something definitely wasn't 'right' about Tad.
However, positive reinforcement for this behavior would be to feel sorry for him and take him back inside with the other...but, that wasn't going to happen. Tad needed some alone time, and darn it...he was going to get it.
We drove down Calvary, which...if you remember...is where our paths first crossed. He...didn't ride in the car the way he normally does. He curled into a little ball...he looked so sad. Was this familiar to him? Did he come from a house with other dogs? ...and did whoever left him took him on a ride by himself? ...and did that person pull over...open the door...and dump him? I'd give anything to know what Tad was thinking, but then...maybe I'm better off not knowing.
We first went to PetSmart...I needed a few things, and walked out with too many things. You know how that goes. But, of course...we went down the squeaky toy aisle.
Every few steps, Tad would always turn to make sure I was still there with him. He is always a tad (no pun intended) quite and unsure of himself when we visit places other than what he's used to.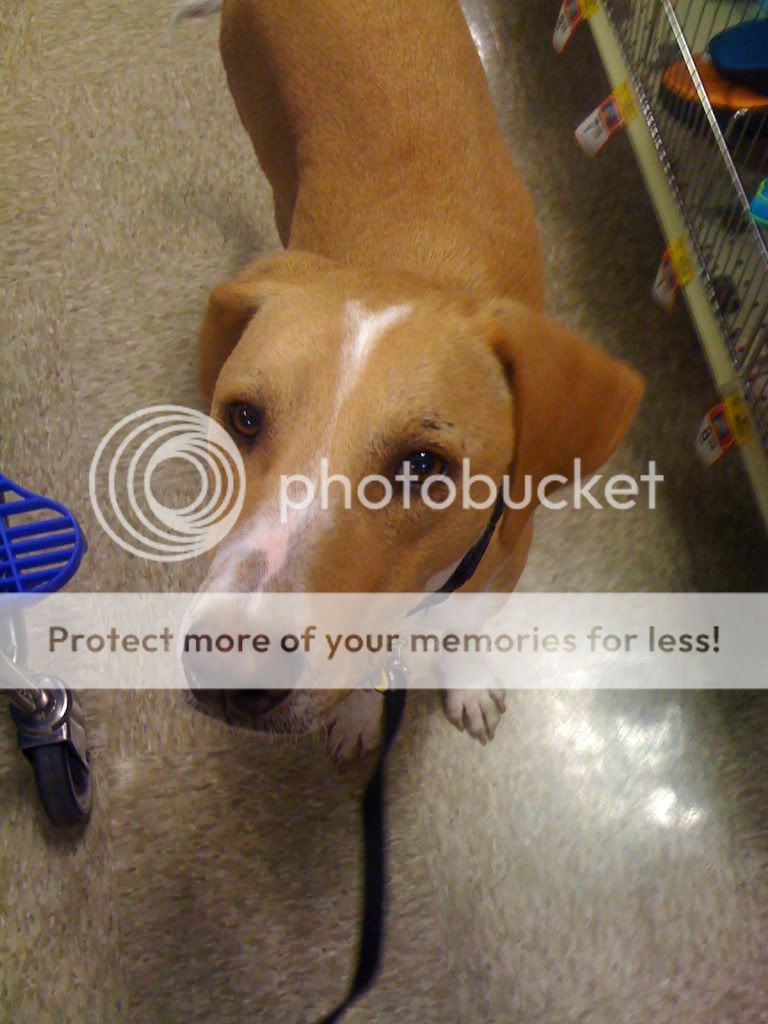 Ah yes...and the birds. He loves birds. He'd chase them until he fell over from exhaustion...we stood in front of the aviary for gosh...10 minutes? ...developed a little huddle of people watching Tad watch the birds. They liked him, but I don't think he even knew they were there.
I have been wanting to take Tad to the dog parks; if you remember, our first experience didn't go over well. However, with the temperatures in the triple digits and the severe drought...it was HOT and the place was pretty desolate. Either way, here's a few pictures I took of him on my phone while at the dog park.
I spy an itty bitty super tiny Tadpole!


Agility dog in the making?
Itty bitty teeny tiny Tadders...running!




It would appear that he had a splendid time!
Tadward got a new collar! Well, so did Walker and Chica, but this is HIS blog. ;)
Tad was excited when we got back home...almost relieved. Like, 'Hey...she brought me back...hey...this is pretty neat.'
It is amazing the difference in behavior when he does not have that 'pack mentality' and he's on his own. A truly well behaved dog...